Sotavanhuksen museo
Sotavanhuksen museo, "The Veteran's museum", is a local history museum taken care of by Alavus association. The museum is located in an old granary by the Alavus church. The museum is named after a poem, Sotavanhus (veteran in Finnish) from the collection of stories that is known as Vänrikki Stoolin tarinat by the author Johan Ludvig Runeberg. The museum consists of two floors and presents e.g. the various phases of the war in Alavus, findings from the Stone Age, church history, farm equipment as well as various kinds of means of transportation. Open in June and July, Tuesdays to Saturdays between 10-14. Other times upon demand.
Kirkkotie 8, 63300 ALAVUS
Tel. 040 746 2843/ 040 765 9034/ Alavus-seura ry
alavus.seura.ry@gmail.com
https://kotiseudut.fi/alavusseura/etusivu
---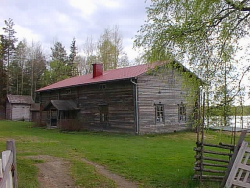 Töysän museo
Töysän museo (Töysä museum) is located by the resort Sepänniemen Lomakylä in Töysä. Open from June to August, Wednesday-Friday between 12-16 when the guide is around. Other times, guidance from the resort.
The museum is taken care of by Töysä association, and presents the local history of the turn of the century and the war, as well as objects used in shoe making and trade. The museum that nowadays functions as trade museum was originally the first general store in Töysä, belonging to Salomon Ojanperä.
Niemenkyläntie 250, 63600 TÖYSÄ
tel. 0400 900 173
www.toysa-seura.fi
---

Töysän Viljamakasiini
Töysän Viljamakasiini (Töysä Granary) is located by Töysä church and serves as a coffeeshop after the service on Sundays in the summer. During the opening hours of the café visitors may get familiar with Kihinä, a historical, church-related exhibition concerning the congregation in Töysä. On the wall there is a relief by the composer-songwriter Toivo Kärki.
Kappelitie 4, 63600 TÖYSÄ
http://www.toysa-seura.fi/?page_id=21
---

Apteekkimuseo
Pharmacy Museum
Apteekkimuseo, the Pharmacy Museum is located together with the two other museums in Sepänniemi resort. In the museum visitors can see for example an abundant collection of pharmacy-related items collected by Markku Pohjanpalo.
Niemenkyläntie 250, 63600 TÖYSÄ
tel. 0400 900 173
www.toysa-seura.fi
---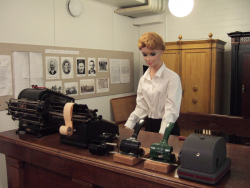 Pankkimuseo
Bank museum
The Bank musem is located in the bus station in the centre in Alavus, by the city hall. The first Säästöpankki bank ever to be opened in the Finnish-speaking South-Ostrobothnia was found in Alavus in 1866. The exhibition presents banking items already from the decade of the foundation of the bank.
Open upon demand: call 040 746 2843 or 040 765 9034.
Kuulantie 6, 63300 ALAVUS
alavus.seura.ry@gmail.com
https://kotiseudut.fi/alavusseura/etusivu
---

J-M Rally Parc Fermé
Rally car museum near Tuuri shopping village. In the show, Jari-Matti Latvala´s rally and collect cars. Also featured is his listed awards with his competition reports on childhood to this day.
You can also see all kinds of rally goods: riding suits, podium caps, team clothes, literature, magazine photos, etc. Also the winning Mitsubishi of Jari Latvala (father of Jari-Matti´s) and all the prizes since 1981.
Open in the summer Mon-Sat 10 am to 5 pm, Sun 12 am to 5 pm. Winter time by arrangement.
On request, you can also explore the 100-year-old mansion mansion with its buildings (lute building, barn, old tools and furniture).
Korventie 2, 63610 TUURI (traffic circle)
Tel. 040 512 2252
helena.latvala@jarilatvala.com
http://www.latvalamotorsport.com/index.php/fi/ralliautonayttely/