Tuurin Kauppakylä and Finland's biggest department store, Veljekset Keskinen
Tuurin Kauppakylä offers something for the whole family: shopping, events, and activities. It is easy to enjoy oneself in the unique atmosphere of the shopping complex, Kauppakylä, and there is a wide selection of restaurants. Along with great shopping possibilities one can play nostalgic vending machine games in Pelimaailma, or visit Lasten Seikkailurata, an adventurous course for children – both of which are completely free of charge!
Onnentie 7, 63610 TUURI
Kyläkaupan info tel. 010 770 7000
email: kylakauppa@tuuri.fi
www.tuuri.fi
---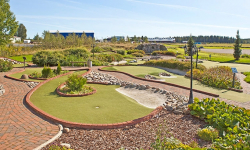 Kyläkaupan Minigolf
The minigolf course is located near the department store "Tavarapuoti", by the small river. It is possible to purchase a play pass and rent the necessary equipment at the reception of Hotel OnnenTähti (returnable deposit 20 €). Racket rental is 3 € per piece.
Onnentie 7, 63610 TUURI
tel. 010 770 7124
www.tuuri.fi

---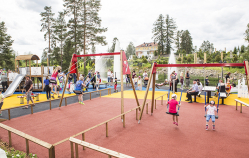 Moomin Playground
The biggest Moomin playground in Finland is located in the front yard of the department store in Tuuri, by the river. The playground is open all the time in the summer, and is free for everyone.
Onnentie 7, 63610 TUURI
Kyläkaupan info
tel. 010 770 7000
email: kylakauppa@tuuri.fi
www.tuuri.fi
---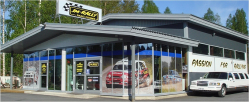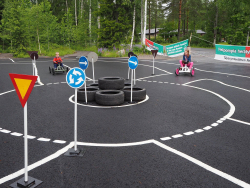 J-M Rally Parc Fermé
An exhibition of rally cars at Tuuri. Apart from rally cars there are many other, rally-related things to see, for example a shop for Jari-Matti Latvala products as well as a summer café. Open in the winter for groups upon demand. Meeting and representation rooms to rent with or without a sauna. Possibility to use a data projector, screen and WLAN. Possibility to order service for occasions. Possibility for accommodation for eight people.
On request, you can also explore the 100-year-old mansion mansion with its buildings and utensils at a distance of 4 km.
You can also order the opportunity to experience the charms of the pace and get on to the real rally car.
Korventie 2, 63610 TUURI (traffic circle)
Tel. 040 512 2252
helena.latvala@jarilatvala.com
http://www.latvalamotorsport.com/index.php/en/ralliautonayttely_en/
---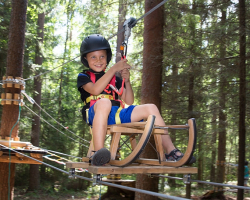 Adventure park Huikia, Tuuri
Adventurous experiences for the whole family! Five different zip-line courses of which three are more challenging and targeted for adults. The most courageous ones can test their dare in the height of 12 meters! The park benefits from modern techniques and equipment, guaranteeing maximum safety and and user-friendliness. Check the opening hours from the park's own website.
For groups upon demand.
Tuurinportti-området
Alavudentie 610, 63610 TUURI
Tel. 040 069 8389
tuuri@seikkailupuistohuikia.fi
www.seikkailupuistohuikia.fi/tuuri/en/
---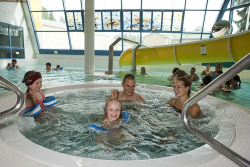 Swimming hall Kunto-Lutra
Kunto-Lutra offers the possibility to train in various ways. The swimming hall includes a 25 meter long swimming pool, warm water pool, jacuzzi, and a water slide. As for the training hall, it is possible to play badminton, squash and ping-pong. It is also possible to use the mirror room, wrestling room, and two gyms. The gym is included in the price of the ticket to the swimming hall.
Kautunkuja 5, 63300 ALAVUS
Tel. 044 550 2352
kunto-lutra@alavus.fi
www.alavus.fi
---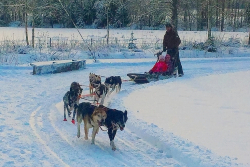 Dog sledding in Töysä
Excursions by dog sledding upon demand in Töysä. Weekdays after 16:00, as well as during the weekends. The path is approximately 3 km long depending on the weather conditions. Both the dogs and the staff are kind and experienced. Weather conditions permitting.
Inquiries and bookings:
Raimo Tarkkonen
tel. 040 156 4846
---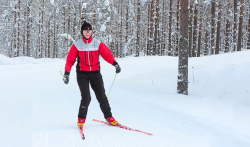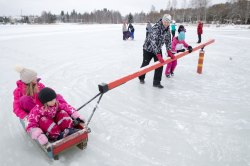 Winter sports for the whole family
Alavus offers winter sport possibilities for the whole family. Well-maintained ski tracks, ice rinks, and sled sliding hills are something that one can find even in the centre of Alavus on the lake Alavudenjärvi, as well as in other places around the municipality. For more information, see the website of the sports and exercise services of the municipality.
---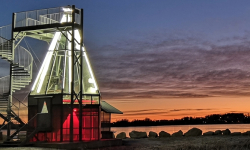 Glass hut of Alavudenjärvi
A relaxed and easy alternative to hiking with a group of friends or family is a glass hut by the Lake Alavudenjärvi in the center of Alavus. Take the snacks and climb the glass house tower. Possibility to fry the sausage. Doors to the hut are always open without reservations.
Tusan ranta
Ilkankuja 9, 63300 Alavus
---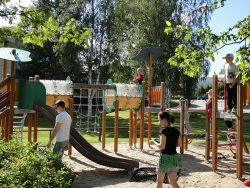 Playground Riahula
Riahula is a popular playground in the centre of Alavus, by the lake Alavudenjärvi, right next to Huhtalava (a central scene where different events and activities take place at certain occasions), that with its charming surrounding is a lovely place for a small break, or why not for a picnic?
Rantapuisto, Huhtamäentie, Alavus centre
---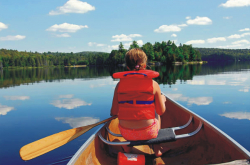 Rantapuisto water sports equipment and terrace
There is a new terrace and a pier by the lake Alavudenjärvi in Rantapuisto by the playground Riahula. An excellent place for a picnic combined with a visit to the lake on a canoe, kayak, SUP-board or rowboat. For a symbolic price one can get the keys and the permission to use the equipment at the reception of Alavus Hotel 66. An own life vest should be brought along. You can find the rules and conditions of the use of the equipment here.
Rantapuisto, Huhtamäentie, Alavus centrum
---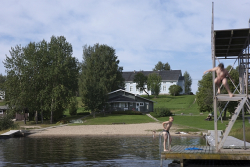 Harri beach
It is worth knowing that there are plenty of proper beaches for swimming in Alavus. Coming to equipment, it is Harri beach by road 66 that is the most versatile. The beach is located by the lake Alavudenjärvi and has also a beach volley field and a diving tower with 2 and 3 meters high platforms. Gallery Harri is located next to the beach, and offers art exhibitions of various artists during the summer.
Saarankuja 3, 63300 ALAVUS
Other fine, child friendly beaches in the centre of Alavus
Vähäjärvi beach (Vähäjärven uimaranta)
Uomatie 20, 63300 ALAVUS
Changing rooms, toilet, beach volley field.
Tusa beach (Tusan uimaranta)
By the lake Alavudenjärvi
Ilkankuja 10 b, 63300 ALAVUS
Changing rooms, toilet, playground nearby.
Public beaches in Töysä:
Lääkärinranta
Rantatie, Töysä
Vuorenmaan ranta
Niemenkyläntie, Töysä
More information about all the beaches in Alavus on the website of the municipality of Alavus.
The outdoor trails and exercise places of Alavus on the map
(click on the image to enlarge)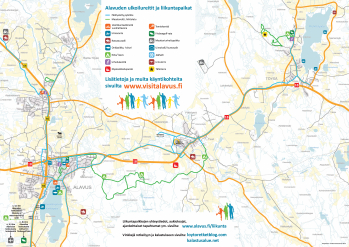 PDF version